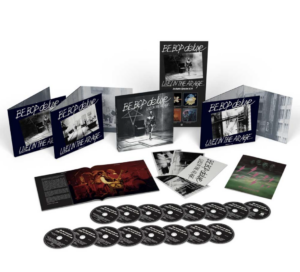 While doing a bit of research pertaining to my new position at a school in China, I took a bit of time to read a great review over at The Spirit Of Progressive Rock on a box set I'll have to purchase before I leave the States.
Be-Bop Deluxe were one of the premier art-rock bands of the 1970s, and its frontman, Bill Nelson, is still making music.  This box is massive, spanning at 16 discs (15 audio, 1 DVD)!  Why am I fascinated with this record?  TSOPR explains:
This legendary live album was released in July 1977 and here's a fact I never knew: it was the band's most successful album, peaking at number 10 in the UK charts. The album came after two stunning albums, and here's something else I didn't realise – there was only thirteen months between Sunburst Finish and Modern Music, two very different albums, both at least getting into the top twenty UK album charts. Live! In the Air Age would be the band's only live record, but what a statement and documentary it was of a superb live and studio band. It was recorded over a series of dates in the UK in February and March 1977 on the Rolling Stones mobile unit with John Leckie, engineer and co-producer of the aforementioned previous two records.

The band's UK tour began in late January and featured the use of projection screens and excerpts from the 1927 German silent film Metropolis, director Fritz Lang's striking science fiction masterpiece. Hence the album cover. Continuing into February, the first concert to be recorded was at the De Montfort Hall in Leicester on the 12th. The following two nights were at the Grand Theatre in Leeds, both captured on tape and saw Wakefield lad, Bill Nelson perform to an enthusiastic home audience.
If this release piques your interest, consider ordering it through Cherry Red or, if your local record shop is amazing, through them.