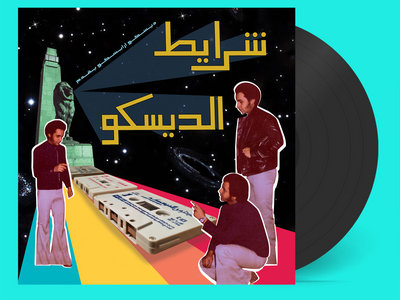 Though I don't think this banger will be available as a digital download (my friends at Wewantsounds will be happy to clarify this), Sharayet El Disco is going to be an indispensable part of your world disco collection!  From the label's Bandcamp site:
"Wewantsounds is delighted to release 'Sharayet el Disco' a selection of Egyptian 80s Disco and Boogie tracks curated by Egyptian DJ Disco Arabesquo from his vast collection of cassettes. Most tracks have never been released on any other format and are making their vinyl debut with this set. A journey through the funky sound of 80s Egypt, Sharayet El Disco (which can be translated by "Disco Cassettes") features Simone, Ammar El Sherei and more obscure names from Cairo's cassette culture. The audio has been remastered for vinyl by David Hachour at Colorsound Studio in Paris and features artwork by young Egyptian graphic designer Heba Tarek."
A side note – the packaging looks absolutely stunning, and judging by quality of the promotional tracks I'm listening to, the remastering is stellar. Of particular interest is Dr. Ezat Abou Ouf & el four M's track Gonoun El Disco.  It's a combination of ABBA and cuts from the Saturday Night Fever soundtrack imbued with the spirit of 1970s Cairo's dancefloors.
Read more about the release at the label's official website here.